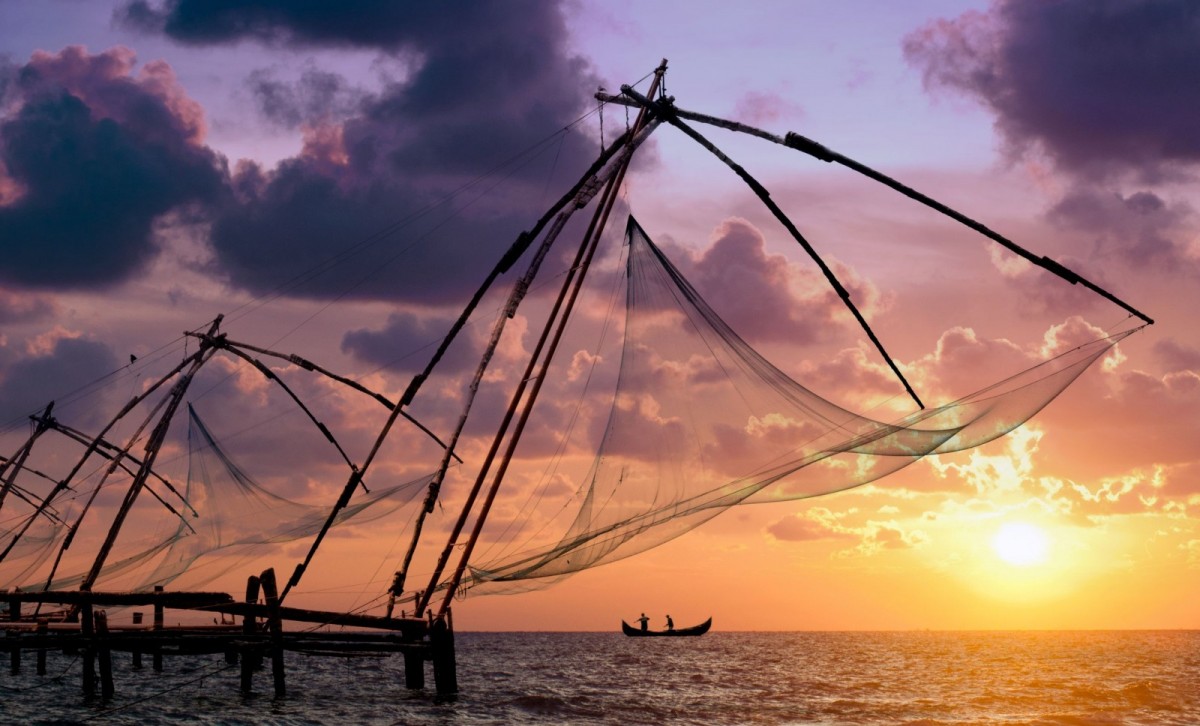 A city born in storm, nurtured in rivalry and established as battling ground for European empires. This phrase makes prefect understanding of Kochi which was formed as an ancient port city after the Great Floods of the Periyar River in 1341. With partitioning of Chera Kerala empire in 14th century, this region came under control of a new dynasty, rivaled by other local feudal lords. With the advent of colonization, Kochi became the first major battle grounds of almost all European powers. However, least it made an impact over the fortunes of this city.
Kochi has a cosmopolitian culture, highly influenced by historical trading partners, Portuguese, Dutch, Arab, Chinese, and Japanese. Kochi is the seat of the Latin church of Kerala and has many Catholic churches and followers.
Kochi was traditionally a potpourri of various Indian and international communities. Syrian Christians started the first wave of immigration, followed by Jews between the 7th and 10th centuries. Arab merchants also made a strong settlement in Kochi. In the 15th century, Gujaratis settled in Kochi, especially on Mattencherry Island, where they played a strong role in spice trading and other areas.
Later, at the beginning of the colonial era, the Portuguese, Dutch, French, and British all made their settlements in Kochi. The Portuguese had a strong influence in Fort Cochin. British culture was strongly felt, lending Kochi a strong community of Anglo-Indians.
Kochi has a typical tropical climate. Temperatures range between 30°C and 35°C during daytime and around 24°C during night. Kochi is one of the first places to experience the heavy Monsoon showers starting by mid of May. Kochi experiences heavy rainfall between mid of May to first week of September. Day time temperatures during the monsoon fall to between 25°C and 30°C during these months. From September to early February, the weather is fine, marked with cool winds and light showers in between. However by February, summer season starts. Though temperatures never touches 40°C, the presence of high humidity can make summers very harsh. This continues till early May. However frequent summer showers cool down the harshness of summer.
After rapid growth during the two last decades, Kochi is now one of the most densely populated town areas in India. Kochi city consists of:
Ernakulam Mainland City — the heart and transport hub of Kochi with three distinct parts: the Central Business District (CBD) which has Mahatma Gandhi Road (MG Road) as the main arterial road along with Marine Drive and Chitoor Road; Downtown with upscale residential areas and the business district at SA Road and Vytilla Junction and the Suburb with Edapally, Pachalam, Palarivattom which has many business and commercial areas.
Willingdon Island — large man-made island made from sand dredged from the backwaters to deepen the Kochi Port. Named after Long Willingdon, then-the reigning Viceroy of India, it houses the Kochi Port, Southern Naval Command Headquarters of Indian Navy and many five star hotels.
Peninsula of Mattencherry and Fort Kochi (Old Kochi) — primarily a tourist enclave. Fort Kochi forms the upper part of the Peninsula with neatly arranged colonial buildings, narrow well-paved roads, Anglo-Dutch influenced structures and large antiques shops. Mattancherry is primarily a trading city, famous for its thriving Gujarati settlement brought to the city in the 16th and 17th centuries by the spice trade.
West Kochi, the lower portion of Mattancherry, which are primarily agricultural/fisheries belt of the city. The area includes famous tourist village Kumbalangi, small fishing hamlets like Edakochi, Kumbalam, Perumpadappu etc, all known for their scenic beauty.
Bolgatty Island — the island where the British established a Royal Residency, which is now converted into a five star hotel. Famous for its large golf course, horse riding tracks, marina and boatyards.
Vallarpadom Island — where the new Kochi International Mega Container Terminal (ICT) has opened.
Vypin Island — one of the most densely populated islands in world with numerous fishing villages, tourist villages and the popular Cherai Beach.
Aluva — the second largest town in Kochi U/A, famous for its Periyar river banks. Kochi International Airport is nearby.
Thrikakara Town — famous for the large Vamana Temple, the focal centre of Onam, the national festival of Kerala. Also the home of Cochin University and other educational institutes.
Thripunithura — the erstwhile capital of the Kingdom of Kochi is famous for various historical palaces, museums and temples, and as a centre of the arts.
Maradu — next door to Kochi city; an upcoming business district with numerous high-end hotels.
0